Today let's break down the question: to build or not to build? The Frisbee® Golf Lovers Dilemma. This dilemma is a lot of fun to work through for Frisbee Golf Enthusiasts. (As a bonus with this dilemma you win either way, as you are going to get to play more Frisbee Golf!)
You love Disc golf and you think about having your own course in your backyard. It is simple to think through, but there are things to take into consideration. You can decide to buy a home near public and/or private Disc Golf course or get land and build your own backyard Frisbee Golf Course.
You have thought about it, haven't you? Most Frisbee Golf lovers happily answer "Yes!" and if you did too, read on!
The Frisbee® Golf Dilemma: To build or not to build?
St Cloud is home to several wonderful courses for Frisbee golf lovers.  That's because land in central Minnesota lends itself perfectly to building a Disk Golf course. There is lots of beautiful land that is perfect for building a backyard Frisbee Golf. The best part? Not only is the land beautiful, it is also affordable.
Ask yourself these 2 questions to start the process. Is Building your own Frisbee Golf Course in your own back yard something you want to tackle? Or would you be happier buying a home near a prime course and spending your time playing? You pick, to build or not to build? This is the question and the Frisbee Golf lovers Dilemma.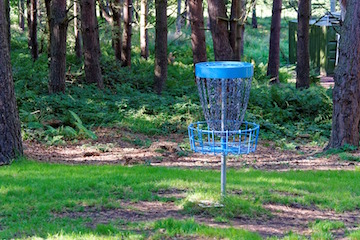 Your Own Backyard Frisbee Golf Course
So you are ready to buy a home and you love playing Disc Golf. How do you decide between buying a home close to a public use course or building one yourself?
10 years ago I wrote my first blog article about Frisbee golf in Minnesota. Things have changed since then as the Disk Golf continues to grow in popularity. Frisbee golf's growth in popularity has caused more public courses to be built. There are a number of Disk Golf courses you can play, without having to build.
To build or not to build? Cost VS Time
Courses around the country offer the Frisbee golf enthusiast a fantastic variety of options. Consider the expense vs the time you will need to invest and ask yourself:
Will you be happier and if you build a course or if you buy a home close to an already-established course?
Will you have more Frisbee Golf time if you play on a public course?
What better suits your goals, lifestyle, and budget?
Let's take a good look at your choices and help you make the right decision.
A disk golf course in your back yard – Build it!
You can buy land to build a disk golf course that also has a buildable space for a home. This option of buying the land gives you a course you designed in your backyard. This option sounds great until you get into all the maintenance and realize you are not spending your time playing.
Threads have come up on Frisbee golf sites with players discussing if they should build a course or not. The Frisbee Golf Lovers discuss the Dilemma at great length. They calculate how much acreage they should get, and what features make for excellent obstacles and price. To begin, figure your limits on time for construction, upkeep, and the cost.
It is doable! Check out this news story of 2 central Minnesota neighbors who build their very own backyard frisbee golf courses.
Design Your Backyard Frisbee Golf Course
So you are ready to buy a home and you love playing Disc Golf, how do you decide between buying a home close to a public or private course and building one yourself?
The nice thing about buying the land for the course is you do not need to have the most desirable land to build upon. You do not want flat farmland or grazing land. You want to buy land with trees, rolling hills, and other obstacles that will naturally give you a more challenging course. Land that is not in popular demand for more common pursuits can be found and should be less expensive per acre than that perfect farmland.
Invest in a great design and plan for building your Disk Golf Course. You can wait on adding some features and grow over time.  But know that you will save yourself in the long run if you plan it well at the beginning.
Maintain Your Backyard Frisbee Golf Course
If you have your own course you will now need to mow or have some livestock to keep the grass trimmed. Both cows and goats work well. When you have animals do the "mowing" you now have the upkeep of the animals. If you already want cows or goats or are planning on having them, then this works out fine.  If not then you will have other logistics, like water, food, and shelter, that must be taken into account.
Frisbee Golf on Public and Private courses
You do not want to build? Well Ok! You can still enjoy playing Frisbee Golf on a course right next door to your home.  And without all the work and expense.
Many public courses are part of the parks system and are maintained by the same people who take care of the local playgrounds. If you do not have to take care of a backyard Frisbee Golf Course all the time you would have spent in mowing, trimming, weeding etc… you can now spend having fun playing.
There are lots of homes for sale within walking distance of local Disk Golf and Frisbee golf courses. You just need to quickly find them and buy them. And do it before the other people with the same great idea and love of Disk Golf beat you to it.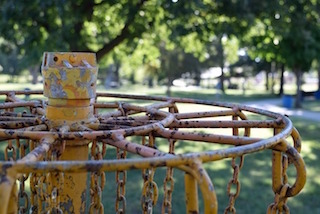 Get your Realtor to put your name into an automatic search where homes within a certain area will be sent to you automatically. Map searches are an easy way to stay on top of the homes for sale if you want to live in a very specific area. This is great news if you want a Frisbee golf course near your back yard but do not want to pay for or maintain it.
Not to build! Frisbee Golf and Public Play Options
St Cloud and Central Minnesota offer you a fantastic selection of both public and private courses to play. You do not have to build your own backyard Frisbee Golf Course to play. The list of Public Disc Golf locations in and within an hour of St Cloud is full of great places to spend the afternoon. 
Several of the St. Cloud's public Disk Golf courses are very well established. Check out the blog post below: "St Cloud's Disk Golf Courses" from .
Disc Golf/ Frisbee® Golf – another wonderful reason to love St Cloud MN
On a sunny day out at Riverside Park in St Cloud MN, you can easily find those who will tell you that this is the greatest sport EVER! And around St Cloud Disc Golf has been growing in popularity for years.
The sport is a little bit golf mixed in with a little bit of Frisbee®, and a lot of fun, just ask anyone who has played. There is even a club for serious enthusiasts the St Cloud Disc Golf Club.
Disc Golf is easy to play
Each player tees off with a throw of their disk, and much like in golf after you tee off, you want to keep your disk heading towards the hole. In disc golf the hole is usually an elevated wire basket called a Pole Hole®.
You start your next throw where your last throw landed, and no mulligans (at least that is what I was told). The object is to get your disc, in as few throws as possible, into the pole hole.
The sport is open to all, no expensive gear (although if you want you can) no greens fees and you do not have to be athletic, just be able to traverse the course and throw a plastic disk.
Stearns county is full of great locations to play disc golf
St Cloud MN has 3 disc golf courses in town Riverside Park, Calvary Hill Park and St Cloud Children's Home (permission is needed for this location), all 3 are listed on St Cloud Frisbee golf courses.
The other Frisbee® golf courses in Stearns county are Sartell Mn at Northside Park, Waite Park MN at Rivers Edge Park, St Joseph MN at Millstream Park, Saint Stephen at Mississippi River Park and Richmond at the Morning Star Camp Ground. Sherburne County has 2 courses and Benton County has 3, for more information about each location be sure to check out the full list of Minnesota locations for Disc Golf.
The sport of disc golf has really caught on in St Cloud and if you are interested there are several websites dedicated to the sport, local shops that carry the discs and even youtube videos on how to make your own pole holes and how to play.
Frisbee Golf Lovers Dilema
Living in Central Minnesota gives you great access to free Frisbee Golf courses and pay to play Disk Golf courses. Plus living here also gives you the option to design build your own course. So what to do?
You can choose to buy a home next to one of our well-loved public or pay to play disk golf courses.
You can choose to be like the 2 neighbors in the news story and build your own Frisbee Golf course in your backyard.
Or you can even choose to build your own course and make it not just your favorite hobby, but your livelihood too.
Both homes and land for whatever you choose are available right now. And with interest rates at all-time lows now is the perfect time to make your decision: To Build or Not to Build? The Frisbee Golf Lovers Dilemma.
If you are relocating to central Minnesota check out all the wonderful reasons to love St Cloud. It is a  beautiful area full of things to do and lots of great houses. I would welcome the opportunity to help you find your perfect place here. Browse my website for more information about buying or selling a home, or property in the Central Minnesota real estate market.
Imagine the endless possibilities...
Find your dream home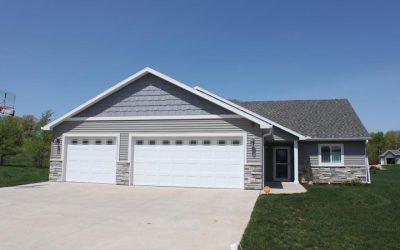 3859 21st Avenue S. Saint Cloud, MN 56301 is a fully accessible patio home in move-in condition and ready for you. This well-appointed patio home has multiple accessible features. Such as the ceiling lift, the roll-under kitchen and bathroom sinks, a roll-in shower,...
read more